Arsenal Vs Slavia Praha: Live Streaming & TV, Prediksi, Susunan Pemain Dan Kabar Terkini
08-Apr-2021, 01:35 pm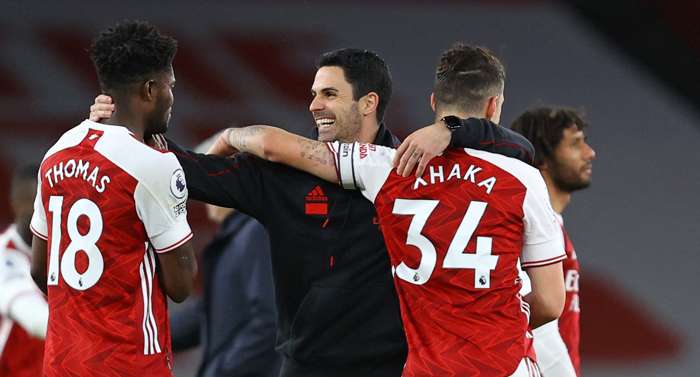 Lompat Ke:
Arsenal akan berusaha untuk kembali menemukan momentum mereka ketika bentrok dengan Slavia Praha di leg pertama babak perempat-final Liga Europa, Jumat (9/4) dinihari WIB.
The Gunners melaju ke babak ini setelah mengalahkan Olympiacos 3-2 secara agregat. Di kubu seberang, Slavia berhasil menyingkirkan Rangers di fase 16 besar.
Pasukan Mikel Arteta sedang dalam moril yang tak bagus setelah dihancurkan Liverpool 3-0 di laga terkini mereka. Liga Europa akan menjadi satu-satunya 'hiburan' klub London Utara untuk menutup musim ini dengan raihan prestasi.
Leg pertama babak delapan besar Liga Europa 2020/21 antara Arsenal dan Slavia Praha akan disiarkan di SCTV dan Vidio pada Jumat (9/4) dini hari pukul 02:00 WIB.
Simak jadwal TV selengkapnya di sini.
David Luiz dan Kieran Tierney membutuhkan waktu beberapa pekan untuk pemulihan cedera. Namun Bukayo Saka dan Emile Smith Rowe, yang gagal tampil di laga kontra Liverpool karena alasan kebugaran, tampaknya bisa ambil bagian di laga kali ini.
Granit Xhaka mungkin prima setelah akhir pekan kemarin absen karena demam, namun Mohamed Elneny juga punya peluang untuk bermain sejak menit awal. Sementara, tidak mengejutkan jika kapten Pierre-Emerick Aubameyang akan ditepikan di pertandingan ini setelah kembali menunjukkan performa memble akhir pekan lalu.
Di tengah isu rasisme, Kudela akan selalu mewakili Slavia. Namun dia tidak bisa tampil melawan Arsenal karena masalah kebugaran.
Slavia mengalami krisis di lini belakang dengan Simon Deli dan David Hovorka tak tersedia untuk laga kali ini. Tapi winger mereka yang tengah naik daun, Abdallah Sima, yang mencetak empat gol di kompetisi ini, bisa unjuk gigi meski di kancah domestik tengah menjalani suspensi laga.
Satu setengah tahun Arteta menangani Arsenal dipenuhi dengan lika-liku. Belum cukup kekalahan memalukan 1-0 dari Olympiacos di Emirates -- meski akhirnya tetap lolos ke perempat-final karena unggul agregat -- The Gunners kembali dipermalukan di kandang sendiri kala dilibas Liverpool tiga gol tanpa balas.
Mengingat kans Arsenal untuk bisa tampil di kancah Eropa musim depan lewat jalur Liga Primer Inggris hampir pasti tertutup, Liga Europa bisa jadi satu-satunya jalan untuk menyelamatkan musim bobrok mereka.
Arsenal pun tak bisa memandang sebelah mata duta Republik Ceko ini, terutama karena skuad Arteta telah melalui 13 pertandingan tanpa sekalipun meraih clean sheet sejak terakhir bermain imbang 0-0 kontra Manchester United 30 Januari lalu.
Dari segi tim, Slavia sedang dalam performa terbaik di kancah domestik. Hanya saja, drama rasisme yang melibatkan Glen Kamara dan Ondrej Kudela membayangi kemenangan mereka di babak 16 besar, di mana pemain Rangers tersebut kala itu dihibur oleh manajer Steven Gerrard setelah menuduh bek Slavia ini melakukan pelecehan rasial terhadapnya.
Terlepas dari itu, pasukan Jindrich Trpisovsky berhasil mengamankan 21 laga tanpa terkalahkan di seluruh kompetisi dan belum sekali pun merasakan hasil negatif sejak pergantian tahun. Ini bisa menjadi sinyal ancaman bagi anak-anak dari London Utara.
---
Source : zqscore.com
---